December 30, 2019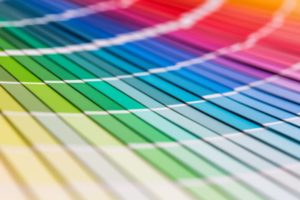 Have you ever stopped and wondered "how is paint made?" You're not the only person typing that into Google. It's not just the pigment of paint that's fascinating to consider, but also the texture, sheen, and how it's able to continue looking beautiful after years or even decades of being on a wall. We apply paint for a variety of reasons that aren't just aesthetic, which is why it's made of more than dyes and coloring. Read on to learn the five-step manufacturing process of paint.
Measuring the Ingredients
Just like when you follow a recipe to make your grandma's zucchini bread, the first step to making paint is measuring out all the ingredients to make the base. They're calculated on scales, and sometimes by volume in massive vats to make large batches. The scales are highly accurate to ensure that the proper proportions of pigment, resin, solvent, and additives are added for high-quality and long-lasting paint.
Preparing the Mill-Base & Adding Pigments
The pigments that color paint are typically in the form of a powder that can stick together and form clumps. Before they're added to the base of the paint, they're wetted by resin and additives to stop them from sticking together in a process called dispersion.
High-speed mixers with the ability to rotate at up to about 1000 rpm are used to combine all the ingredients and evenly disperse the coloring. Slowly, the pigments will be added to a portion of the liquid paint to form the mill-base.
Some pigments are more difficult to make and require the use of either a bead mill, bar mill, or ball mill. Ball mills are used to make smaller batches and are large porcelain-lined rotating vats that have golf ball-sized porcelain balls in them to help disperse and mix pigments. Bead mills are similar, but the balls are 3mm zirconium dioxide beads that mix at a higher speed. Bar mills are great for thick mill-bases and force it through a small area with a rotating water-cooled roller and a bar against that.
Mixing the Let-Down
The let-down is made when the resin, solvent, and additives are combined and mixed. These ingredients give the paint a variety of vital properties, such as being mold resistant, scuff resistant, easy to brush on walls, and adhesive. The mill-base is then incorporated with the let-down by stirring.
Testing For Product Quality
At each step of the process, the paint can be tested for quality by the Product Verification Laboratory to make sure it's mixed and made properly. The completed batch of paint that includes all the ingredients is thoroughly tested to evaluate its dispersion, thickness, density, pigment tint and strength, application, dry time, and its gloss or matte finish.
Canning the Paint
After the batch has passed all the tests for product quality, two samples of the paint are taken. One is stored away in a library of paint batches, and one is kept to test in the Resene Final Inspection Laboratory to make sure that it meets all the necessary standards and specifications. After that, the batch of paint is transported to local stores and warehouses to be bought and used in homes and businesses all across the nation.
Whether you choose a glossy or matte finish, a bright blue or dark maroon, or an oil or latex-based paint, they will all be made with the purpose to give your home a beautiful facelift and protect your walls. Now that you know the process of how they're made, you can appreciate all the hard work and quality ingredients that help you feel more at home.
About Platinum Painting of Fort Worth
We have helped thousands of homeowners update, spruce up, and refresh their homes with our professional services at Platinum Painting of Fort Worth. Whether you're in need of a professional free estimation or some help deciding on your final color selection, our team will be there for you through every step of the way. To schedule a free price quote for your project, visit our website or call 817-380-4404.
Comments Off

on The 5-Step Process of How Paint is Made
No Comments
No comments yet.
RSS feed for comments on this post.
Sorry, the comment form is closed at this time.