February 4, 2020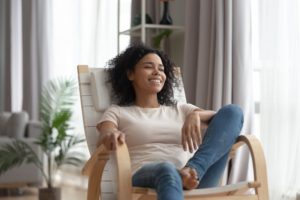 In 2020, Behr released its annual paint color trends to help homeowners bring their personal spaces into the new decade. All of these combinations consist of 15 unique shades of paint that are especially designed to embody the new year. Something as simple as repainting your kitchen or bedroom can help make your space feel newer, calmer, bolder, or more homey. Read on to learn how you can start off 2020 by giving your home a facelift.
2020 Painting Trends You Won't Want to Miss
These three painting trends for the new year use a variety of colors and shades to create an intentional living or working environment. That way, you can spend your time in a space that helps soothe, promote good health, or even encourages productivity, depending on your resolutions.
Cool Tones For a Calmer Year
Cooler colors that feature undertones of blue, green, purple, and gray can help you feel more relaxed and calm in 2020. They're all reminiscent of outdoor spaces and create a quiet and private atmosphere, which would be great for bedrooms and bathrooms. A good note to keep in mind if you're planning on adopting this calming trend is that the lighter hues you use, the larger a room will feel.
Neutral Paired With Pastels
For more sophisticated and productive spaces, like an office, a splash of color combined with natural grays, whites, and charcoals is a great 2020 painting trend. A pastel lilac or pink allows more neutral colors to shine instead of simply blending into the background, creating a more modern-looking space.
Bold & Warm For An Exciting Juxtaposition
If you like exciting and creative spaces that feel uplifting, you can pair pops of color with warm and natural shades. This juxtaposition helps balance out the space so it doesn't feel jarring. Oranges, yellows, warm pinks, and taupe go great together to create spaces that look large and welcoming, like in a family room.
Creating New Shapes & Textures in Rooms
For 2020, people aren't just focused on color combinations to uplift their homes. They're also experimenting with shapes and textures to create dynamic and interesting spaces. Try adding fabric artwork or experimental sculptures that add different textures to the room. You can even make your own to customize the space more! When you don't limit your home-transformation to a single medium, you'll be able to let your creativity soar.
Bringing your home into the new decade by experimenting with different color schemes and textures can help you get the most out of your space. Intentionally choosing colors and accent pieces can encourage you to meet your new year's resolutions!
About Platinum Painting of Fort Worth
At Platinum Painting of Fort Worth, we guarantee the satisfaction of all of our homeowners because we pride ourselves in delivering exceptional results. We offer several services, including interior and exterior painting, popcorn ceiling removal, and wallpaper removal. Also, because we specialize in residential painting, we're able to provide one-on-one consultations and meetings to help create the unique vision you have in mind. For questions or to schedule a free in-home estimate, visit our website or call 817-380-4404.
Comments Off

on Paint Color Trends of 2020
No Comments
No comments yet.
RSS feed for comments on this post.
Sorry, the comment form is closed at this time.