March 8, 2020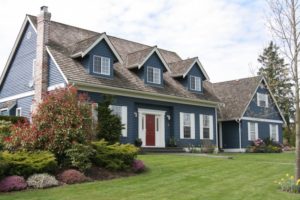 Over time, the outside of your home can become worn-down from protecting the structure from damaging rain storms, high winds, tornados, and other natural occurrences. Unfortunately, that can cause your curbside appeal to plummet, making your house look older and less aesthetically pleasing than it once was. If you're looking to spruce up the outside of your home with a coat of fresh paint, read on for five helpful tips for picking exterior paint color.
Start Off With Picking Some of Your Favorite Swatches
The best way to begin your color search without becoming immediately overwhelmed is to pick some swatches of colors that stand out to you. If you have any HOA requirements that you need to meet, be sure to consider those as well—that way, you don't get attached to a color that you won't be able to use. You can place the swatches outside of your home and see how they look when the sunlight hits them at certain angles and narrow down your results with your professional painter.
Invest in Premium Paint
In terms of paint, you'll often need to invest a little more money in order to get a high-quality brand that will last through years of storms and high-winds. Not only will this be a great future investment because you won't have to repaint the exterior of your home anytime soon, but you'll also get a lot of joy out of seeing a job well-done each time you drive home from work.
Consider The Permanent Fixtures Surrounding Your Home
Before narrowing down your colors, it's important to consider the surrounding permanent fixtures in your home, such as existing stone, brick, or your patio. Working with these colors, you'll need to find one that either compliments or stands out among them, depending on what best fits your taste. A good place to start is to try pairing opposite color temperatures. For example, pair a warm red brick with an exterior paint with cool blue or gray undertones.
Use Technology That Helps You Visualize The Results
When you visit your local paint store, you can utilize advanced technology that helps you visualize your results before you've even started. There are also several online tools that can offer color-pairing suggestions if you're stuck on what would look good with a certain color of brick or stone.
Don't Forget to Pick The Trim Color
Even though the trim is only a small portion of the exterior of your home, it can have a huge impact if it's painted in such a way that makes it frame or pop against the brick or siding. If you're looking for a color other than white to paint your trim, you can try choosing a color that's just a few shades lighter than your primary paint color for a subtle outlining effect.
If you're stuck and need some guidance, your professional painters can help. Plus, by consulting an experienced professional, you'll be able to rest-assured knowing that your results will turn out exactly how you envision.
About Platinum Painting of Fort Worth
We want our homeowners to be thrilled about their new appearance of their home, which is why our team sticks with them throughout every step of the way and offers support when it comes to color selection. Because we only paint residences, we're the best at what we do, and have zeroed-in our skills and time on mastering interior and exterior home painting. For questions or to receive a free in-home estimate, visit our website or call 817-310-9832.
Comments Off

on 5 Tips For Picking Exterior Paint Color
No Comments
No comments yet.
RSS feed for comments on this post.
Sorry, the comment form is closed at this time.