April 6, 2020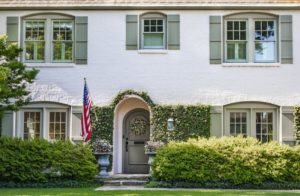 Would you like to boost your home's curbside appeal? Painting exterior brick is a recent homeowner trend that takes a classic red or gray brick home and makes it appear more modern and cleaner. Although it seems like a simple exterior painting job, there are many factors to navigate when choosing the color and properties of the paint that you're going to use, which is why it's a good idea to consult with a professional. Read on to learn more about this trend and how you can get the best results.
What are the Benefits of Painting Your Brick Home?
There are countless benefits of painting a brick home, which is why so many people are starting to pick up this popular trend. While it may take a substantial investment of your time and money, after the project is complete, your home will likely feel completely new. The only other way you could achieve that feeling is by buying one! A great place to start looking for inspiration is on blogs, Pinterest boards, and heading to your local paint store to look at swatches.
Why Should You Be Cautious About This Project?
Although this may seem like a relatively easy feat to take on, that's not the case at all. This is a big project, and it's important to consider both the pros and cons of it. Painting your brick home is an irreversible act, which is great if you're absolutely in love with the idea of it, but if you have doubts, that's something you'll definitely need to consider. Painted brick also needs to be regularly cleaned, because depending on the color you choose, it can look more dirty than unpainted brick. It's also important to know that you'll need to repaint your home every five to seven years to prevent it from peeling or cracking, although this depends on the area you live in and how diligent you are about upkeeping the paint job.
Should You Attempt the Project By Yourself?
While it's definitely possible for you to paint the exterior brick of your home by yourself, it's not recommended. There are countless preparation steps and factors to consider in this project, which means there's more room to go wrong on your end if you're not a professional. For example, before you can paint, you'll need to clean the entire exterior of your home and repair any cracks in your brick. You'll also need to pick out a paint that's durable enough to withstand weathering in your area. Ultimately, this is a job that's best left to the professionals, because one misstep, and you'll have to drive up to that visible error after work every day.
About Platinum Painting of Fort Worth
At Platinum Painting of Fort Worth, our team only paints residential properties, allowing us to master our art of making homeowners' visions come to life. We offer a variety of services to help update and transform homes, including exterior painting and wallpaper removal, among others. For questions or to schedule a free in-home estimate, be sure to visit our website or call 817-380-4404.
Comments Off

on The Pros & Cons of Painting Exterior Brick
No Comments
No comments yet.
RSS feed for comments on this post.
Sorry, the comment form is closed at this time.