June 3, 2020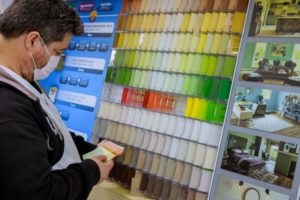 There are a variety of paints that you can choose from at the store, and they're not just different in color. They can have varying sheens, pigments, resin, and other additives as well. It's important to understand how each component of paint works together to provide you with lasting results, whether it's placed indoors or outdoors. If you've ever wondered "Is there a difference between exterior and interior paint?", you can find your answer below.
The Properties of Paint
There are several different properties of paint that are all important to consider when choosing the perfect, long-lasting one for your project. Here's a list of paint components and what roles they play in creating the finished product:
Pigments are finely-ground powders that are mixed with the paint to provide it with its color, opacity, glass, and texture.
Binders, also known as resin, are either organic or non-organic compounds that are added to boost the durability of the paint, or how well it adheres to your wall.
Solvent, also known as the liquid, is what the pigments and binders are mixed into. They allow the paint to dry.
Additives can consist of a number of varying compounds that impact the performance of the paint, such as its ability to resist trapping moisture.
Choosing an Exterior Paint
Exterior paints are made with long-term durability and the effects of weathering in mind. Because they'll be exposed to rain, wind, and sunlight every day, it's important for them to be able to last and easily expand and contract throughout the seasons to resist cracking or chipping. This is where the additives come in. In exterior paint, these are mixed into the paint to help resist fading from UV rays and prevent moisture from becoming trapped in areas of the home that are lower to the ground.
Picking Out an Interior Paint
Unlike exterior paints, interior paints are made with and resistance to different factors in mind. Indoors, scuffs and scrapes can be caused when moving furniture or a variety of other reasons. Interior paint properties are tweaked to provide resistance to cleaning and scrapes, allowing it to continue to look nice. These additives make interior paint more rigid, which is the opposite of flexible exterior paint. These paints also use fewer ingredients in the solvent that can emit gasses and become toxic in the home environment.
Each property of paint is vital to its performance, which is why it's so important to bring someone who is knowledgeable along with you on your shopping spree. With an expert's help completing your project, you'll be able to rest-assured knowing that the paintjob will look great and last for years.
Platinum Painting of Fort Worth
At Platinum Painting of Fort Worth, we solely focus on residential homes, so we can truly say that we're experts at what we do. We provide interior and exterior painting, along with a variety of additional services that help revitalize your living area to give it a new feel. For questions or to schedule a free in-home estimate, visit our website or call 817-380-4404.
Comments Off

on What's The Difference Between Exterior & Interior Paint?
No Comments
No comments yet.
RSS feed for comments on this post.
Sorry, the comment form is closed at this time.