July 28, 2020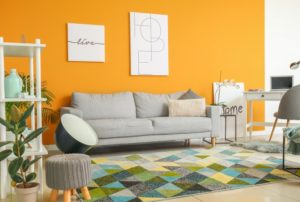 Working with a professional contract painter to breathe new life into your living room is the best way to make your home feel more customized to your personality and style. Sometimes, it's difficult to know where to start, especially if you're open-minded and just want to achieve the best results. To begin the process, you can get your creative juices flowing by reading about some tips to paint the living room listed below.
A Clean, Calming, Neutral Palette
Many people hear the words "neutral paint color" and immediately imagine a variety of browns and beiges. The reality is that there are hundreds of different neutral paint colors, ranging from gray, to rich creams and in-between tones. That's why it's always a good idea to not rule out a neutral living room color scheme early on in your planning stages! Not to mention, choosing these colors offers a variety of different advantages, including:
They match nearly every other color.
They are calming and clean in appearance.
They're popular with home buyers.
You can also brighten up a neutral living room by adding pops of colors through decorative pillows, rugs, curtains, and other living room accessories. So, next time you hear someone suggest a neutral color tone, lean into the idea instead of immediately striking it off your list of color scheme options!
Go With a Bolder Choice
If you're looking to brighten up your living room to make it mirror your fun and energetic personality, you can always choose a bolder color choice. This scheme has become a popular option among many homeowners recently, and include some of these unique color choices:
Cranberry red, which offers a bold, calm pop of color.
Mediterranean blue, that makes you feel like you're by the sea.
Sage, which is a surprisingly versatile bolder choice.
Rich purple, to provide a space with a touch of royal elegance.
Cozy black, that can turn your living room into a dark and calm hideaway that makes a statement.
If none of these bolder color choices speak to you, you can always consult with your professional painter to get additional ideas that they may have been successful using in past projects.
Work With Your Furniture & Surroundings
If you already have furniture and other items in your living room that you're not planning on getting rid of, you can always use those colors to help you determine the best paint to use on your walls. For example, if you have furniture that offers a pop of color, it may be best to lean towards a more neutral and accommodating color for the walls. That way, the area doesn't feel too overwhelming.
If you're unsure of where to start on your search for the perfect paint color for your living room, reflecting on these three options can be a great help. With the best scheme to fit your style, you'll be able to achieve an amazing home transformation.
About Platinum Painting of Fort Worth
At Platinum Painting of Fort Worth, our experienced team of residential painters have helped transform countless homes in the DFW area, both inside and out. Whether you're looking to paint your living room, kitchen cabinets, or remove your outdated popcorn ceiling, our team has you covered. We are completely bonded and insured and offer a satisfaction guarantee. For questions or to schedule a free estimate, visit our website or call 817-380-4404.
Comments Off

on 3 Popular Living Room Color Schemes
No Comments
No comments yet.
RSS feed for comments on this post.
Sorry, the comment form is closed at this time.