November 25, 2020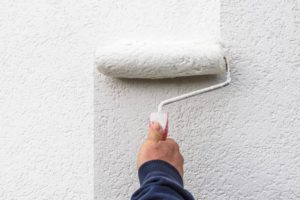 There are several reasons why homeowners choose neutral colors, like white, to paint their home. Not only does this color allow you to add your furniture and décor to a room without having to worry about whether or not it'll clash with the wall color, but it's also great in case you ever decide to sell your home. Although painting a room white may not sound very exciting, when you familiarize yourself with the different undertones and shades of this neutral color that you can choose from, you'll be able to inject your personality into the space without it looking boring. Read on to learn about the different ways you can utilize white paint that will add your own flare to a space.
Warm White Paints
If you're looking to make a space feel more warm and welcoming, using a white shade of paint with a warmer undertone is a great way to make a room cozy! These shades of white are also a good at keeping a space that receives little natural lighting feel not so artificial and sterile. You can also paint your kitchen cabinets a warm shade of white to create a heart of your home that everybody is naturally drawn to.
Cool White Paints
Whites with cool undertones, like grays and blues, can inject a more modern and contemporary feel into a room or space. If you're somebody who can't stand how off-whites look "yellow", or you're not looking for an overbearingly white space, choosing a cool tone of white paint is a great option for you. It can also help brighten a space up, like a garage, without looking out of place.
Bright & Neutral White Paints
If you want the furniture and décor in a room to truly shine, say, in a staged home that's on the market, a bright and neutral white paint is the way to go. Without any predominant undertones, light can easily bounce off the wall and make a room look bright and inviting.
Deciding on the Perfect Finish
Finally, once you've chosen the shade of white that you want, you'll need to choose a finish. Depending on the room that you're looking to repaint, you'll need to pick between a flat matte, eggshell, satin, or high gloss. For more trafficked areas, like a living room, hallway, or the kitchen, you may want to choose a high gloss finish because it's easy to clean. For other rooms that are lower trafficked areas and you want to have a clean, smooth appearance, a flat or eggshell finish may be best. Consulting with your professional painter is a great way to make sure that you achieve the results you want when using white paint.
About Platinum Painting of Fort Worth
At Platinum Painting of Fort Worth, our team of residential painting professionals knows exactly what they're doing, so you can trust that you're in good hands! We come fully bonded and insured and offer a satisfaction guarantee as well. If you have any questions or would like direction throughout the process, our team would be happy to assist you. To schedule a free estimate, visit our website or call 817-310-9832.
Comments Off

on Is it Possible for White Paint to Not Be Boring?
No Comments
No comments yet.
RSS feed for comments on this post.
Sorry, the comment form is closed at this time.