December 30, 2020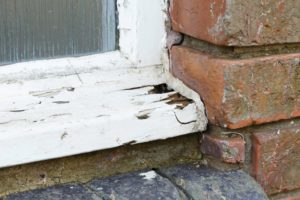 If you've been living in your house for years and can't remember the last time the exterior of your home has been painted, it may be time for a fresh coat. Not only can a new color and coating boost your curbside appeal, but it can also make your home look more modern, warm, or welcoming, depending on what paint you choose. Read on to learn six common signs it's time to paint the outside of your home.
Stucco or Wood is Damaged
Painting helps provide a protective barrier between the materials on the outside of your home and weathering. If your home has stucco or wood and you notice that it's looking damaged or beginning to rot, in order to prevent more damage from occurring, it'll be important to repair and repaint the exterior.
Paint is Bubbling or Cracking
Paint that's peeling, bubbling, or cracked is a sign that you need a fresh exterior paint coat, because your home is no longer being protected. This could be due to moisture that got behind the paint coat or an improperly prepared surface.
Cracked Caulking Around Windows & Entrances
If you notice that your caulking is beginning to crack, it could be a sign that the exterior of your home needs a facelift to waterproof it and continue providing it with protection from weathering. If left untreated, cracked caulking can lead to water damage inside your home, which is a costly issue to need to fix.
Moisture Has Stained the Exterior
Moisture and mold collecting on the outside of your home can sometimes be removed with a power washer and some elbow grease, and if it's deeper damage, that area of your exterior may need to be repaired. Either way, these are all common signs that your home needs to be repainted.
The Original Color is Faded
After years of enduring rain, snow, heat, and direct sunlight, your exterior paint coat will begin to fade. While this is more of an aesthetic issue, if you're looking to sell your home or the faded paint makes your home look older and worn-down, a fresh exterior coat will be the perfect refresher.
You're Just Craving a Fresh, New Appearance
Today, there are countless new paint trends emerging, like painted brick, that can make your home feel more relevant and modern-looking. If you feel like your home needs a simple facelift to boost its curbside appeal, or you just want to inject a little bit of your personality into your house, a fresh exterior paint coat will definitely do the trick.
If you've noticed any of these six signs, then it's time for you to repaint the exterior of your home. While a fresh coat of paint may sound aesthetic, it will also help protect your house from water damage and other issues that can arise down the road, saving you thousands in damage repairs.
About Platinum Painting of Fort Worth
At Platinum Painting of Fort Worth, our team of expert residential painters is dedicated to achieving the best results by never cutting corners. With their advanced knowledge and skills, paired with our satisfaction guarantee, homeowners can rest-assured knowing that their house is in great hands. We provide a variety of improvement services, including interior and exterior painting, popcorn ceiling removal, and kitchen cabinet painting and staining. For questions or to schedule a free estimate, visit our website or call 817-310-9832.
Comments Off

on 6 Signs it's Time to Repaint the Outside of Your Home
No Comments
No comments yet.
RSS feed for comments on this post.
Sorry, the comment form is closed at this time.