March 25, 2021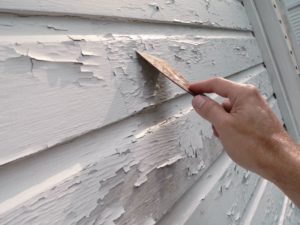 One day, as you leave your house to take the dog on a walk, you see the Platinum Painting crew working on the outside of your neighbor's house, but they aren't painting yet. They haven't even opened a single paint can! They seem to be meticulously getting ready for exterior painting. Is all that preparation really worth it? How exactly does this preliminary work make the results even better? Read on to find out!
Importance of Prep Work
At first glance, the idea of painting a house seems pretty straightforward. You simply pick up a brush and paint the house, right? Not if you want to do it the correct way. Even the highest quality paint will not look as good or last for very long if the canvas is dirty, has chipping paint already, and isn't properly prepared. That's why taking a little bit of time prepping your house to paint can make all the difference.
Painters' Prep Work
Before we get started with beautifying your home, our Platinum Painting team will inspect the work area thoroughly, filling in nail holes, scraping off chipping paint, and checking for cracked or decay wood. If necessary, our skilled craftsman can replace rotting wood with high-quality carpentry so that your home is better protected. We go the extra mile by also power washing exterior walls prior to priming and painting them. With healthy wood and clean surfaces, the paint we apply is sure to last and endure the outdoor elements.
Your Prep Work
Our Platinum Painting team members aren't the only ones who need to do a bit of preparation for the project. We ask that you, as the homeowner, do a few things before we arrive. You need to clean up after your pets and keep them in an area away from the workspace. If you have a sprinkler system, please turn it off while we're there. The water could potentially damage the paint job and unnecessarily douse our team members! We also ask that you take down any wall hangings and plants so that these pieces stay in good condition.
The Aftermath
Not only do we take our time to properly lay the groundwork of a successful paint job, but we also take steps after we're finished to make sure that every trace of our team is cleaned up, except the exceptional paint, of course. We pick up trash and paint chips and do a final inspection with you to confirm that you're happy with our work and the results.
By the time you get back from your walk, you may start thinking it's time for exterior painting on your house too! With a little effort upfront, your exterior paint job can make your house look amazing for many years to come.
About Platinum Painting of Fort Worth
Platinum Painting began in 2008 in Keller and rapidly expanded to serve homeowners in communities throughout North Texas. We can paint basically any surface including wood, vinyl, fences, brick, and more. Would you like to learn more about our exterior painting services? You can contact our Fort Worth team and schedule an in-person estimate!
Comments Off

on Prep Work: Why It's Important for Exterior Painting
No Comments
No comments yet.
RSS feed for comments on this post.
Sorry, the comment form is closed at this time.