June 2, 2021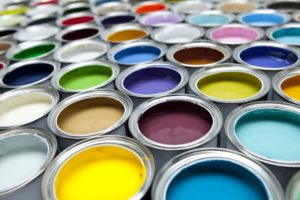 As you stand in the first house you've bought, you're excited to make it yours. How are you going to put your stamp on it? When you come into each room, you want to feel right at home, and interior paint color on the wall can play a vital role in making that happen. When you think about the hundreds or even thousands of color options, you can easily become overwhelmed. How do you begin to narrow down your choices? Here is some information you need to know about how paint color affects you and what to consider in your color selection.
Types of Colors
In the color wheel, there are two general classifications of colors: warm and cool. Warm colors include red, yellow, and orange, while cool colors consist of blue, green, and purple. Although not as dramatic as warm or cool colors, neutrals are other colors worth considering. It's important to note that you can have warm or cool shades of these various options.
Psychological Effects of Colors
Unfortunately, scientific studies have often been inconclusive about the exact psychological effect of colors, showing that certain colors can impact people differently. However, design experts, as well as holistic experts, have claimed that these colors have the following effects:
Red, Yellow, Orange: Stimulation
These vivacious, warm colors may give you energy and are exciting. Others may find these colors overstimulating or even aggressive.
Blue, Purple, Green: Restoration
Reminiscent of nature, these colors often evoke relaxation, but keep in mind that they may also be linked to sadness for some people.
Neutrals: Calm
Lighter neutrals, such as an off-white or light gray, can allow the room to be bright, yet calm. Deeper neutrals like dark gray may have a depressing effect.
Choosing Colors for Your Home
Although you should certainly select paint colors that look attractive to you, you may want to consider how these colors make you feel. After all, if you're going to live with these colors in your home, you should feel good when you see them.
According to general trends, warmer colors tend to be best for entertaining spaces, such as the dining room, because of their energizing effect. For bedrooms, cooler shades can promote the calm, oasis-type vibe many people desire in these spaces. Although they can be used anywhere, neutrals are a popular option for common areas, like the living room, allowing for pops of color and personality in the accent pieces.
Ultimately, as a homeowner, the choice is yours for creating the right tone for each room—it's your prerogative! However, you may want to include these thoughts into your selection so that your guests can also feel comfortable and welcome in your home.
About Platinum Painting of Fort Worth
For more than a decade, Platinum Painting has been helping homeowners achieve their design dreams. Starting in Keller, we've expanded to other North Texas communities, including Fort Worth, and we're continuing to grow! Our first priority has always been outstanding customer service, and our job isn't complete until we get your final approval. If you would like to learn more about Platinum Painting, you can contact us through our website.
Comments Off

on How Psychology Affects Your Color Selection
No Comments
No comments yet.
RSS feed for comments on this post.
Sorry, the comment form is closed at this time.