July 23, 2021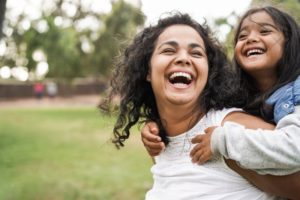 As a parent, it's hard to admit that your little one is outgrowing their nursery and finally in need of a "big kid" room. Even though that's a tough pill to swallow, you can make the project of redecorating their bedroom a special bonding moment. Read on to learn about four ways you can transform this project from a sad reminder that your little one is growing up to an uplifting moment of connection.
Channel Your Inner Child & Get Creative
When you're painting your child's room, it's important to let go of your adult urges to make everything feel organized, neutral, and clean, and just channel your creative side. This project is likely going to get messy, so just go with the flow and remember to have fun! If your little one can help, let them grab a paintbrush and go to the supply store with you—doing this will make it an experience worth remembering for them!
Choose Colors That are Exciting
You may be tempted to immediately shoot down a vibrant and exciting color that your child picks out to paint their walls and go towards a more neutral and versatile shade. As strong as your feeling to do this may be, let them take the reigns! There are countless colors out there that can help create a stimulating and comfortable environment for them, like sky blue, baby pink, apple green, and tangerine, so try to keep an open mind to their suggestions.
Let Your Child Help You Choose Room Décor
While a fresh coat of paint will help transform their room, choosing a new bed, dresser, desk, and wall décor will make it feel updated and fit to house a big kid! Whenever you go out to the store to find new, fun additions to their bedroom, take them with you and see what they like. Not only will it help you choose exciting furniture and accessories, but it'll also be a fun time to get to know them better.
Consider Having a Mural Painted in Their Room
Have you considered hiring a local artist to paint a mural in their room after their walls have been painted? If not, it might be something worth looking into. If they're interested in having a rainforest, oceanic, or space-themed room, this could be an excellent way to make that happen.
Remember, when you start painting and redecorating your little one's room, you'll need to throw all of your conventional rules out the window and channel your inner child! If you do that, you can make this project fun and truly give them a bedroom that they'll love.
About Platinum Painting of Fort Worth
At Platinum Painting of Fort Worth, our team has painted countless bedrooms, living rooms, and kitchens to make homeowners' visions of their new and improved houses come to life. We're experts at what we do, thinking of every detail throughout the project to not only achieve the best possible results, but also make the task of tackling a paintjob easy and stress-free. For questions or to schedule a free estimate, visit our website or call 817-380-4404.
Comments Off

on 4 Ways to Make Painting Your Child's Room a Collaborative, Fun Project
No Comments
No comments yet.
RSS feed for comments on this post.
Sorry, the comment form is closed at this time.