January 7, 2022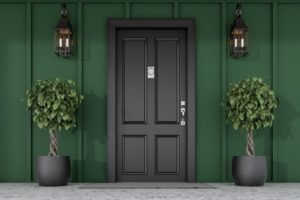 Imagine you're getting ready to sell your house. Maybe you've even put in a lot of work to update the interior over the years, and it's completely modern! However, your listing doesn't get much traffic because the outside looks a little shabby and outdated. Unfortunately, many buyers judge a home within seconds based on the exterior alone, so you miss out on getting their attention.
If the outside of your home could use some freshening up, you may be wondering about exterior paint trends this year. Keep reading to learn what's in style in 2022 and how to make your house listing stand out from the rest!
Warm Neutrals
Like most classic colors, warm neutrals seem to never go out of favor for long. They keep coming back, and it's easy to understand why. These cozy shades range from off-white to a soft yellow, which can be used to create a comfortable, homey setting outside as well as inside. Plus, they work well with many other colors!
White
Although creamy off-whites are popular right now, so are true white tones. You can't go wrong choosing a classic white shade, whether as the primary color or a highlight for the exterior. Keep in mind that true white doesn't have to be blinding. There are plenty of hues that are gentler on the eyes, making them perfect for any exterior.
Darker Hues
Not every home needs to have a light color palette. If you're wanting a more dramatic look, you should seriously consider a darker shade of gray. Although black and white make a classic combination, these deep gray hues strike the perfect balance between the two without being heavy. Additionally, these shades complement wood tones and stone well, creating a warm atmosphere.
Natural Green Tones
If you enjoy nature, it's now popular to bring it home with you with green! In 2022, nearly all shades of green are at the top of the favorite color lists for designers, especially natural tones. Even if you're not a fan of these hues, don't fret—the whole spectrum of green is trending, allowing you the freedom to make your home truly unique. Various greens also work well with a wide palette of neutrals, which can create a timeless look.
Why the Right Exterior Paint Matters
Whether you plan on selling your house soon or several years down the road, you need to keep your home's resale value in mind. By updating the exterior paint to be in good condition, you show buyers that the house has been properly and carefully maintained, which gives them confidence in making an offer. The exterior paint also adds another layer of protection against rain, snow, and any other inclement weather for your house.
In your house listing, you have to attract potential buyers even before they set foot inside. When you select exterior paint colors that are on trend, you'll be more likely to turn some heads and get more showings.
About Platinum Painting of Fort Worth
For nearly ten years now, Platinum Painting has been the #1 ranked company for residential painting in Dallas-Fort Worth. From the first phone call to schedule an estimate to the final inspection, customer satisfaction is our priority at every stage of the process. Are you interested in getting a quote for your next exterior painting project? Contact Platinum Painting of Fort Worth today!
Comments Off

on Painting the Outside of Your House in 2022? Watch for These Exterior Paint Trends
No Comments
No comments yet.
RSS feed for comments on this post.
Sorry, the comment form is closed at this time.