April 11, 2022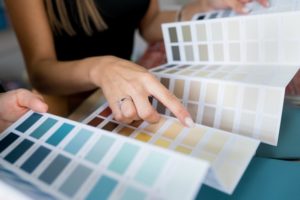 You know you want to change the paint in your house, but color(s) should you pick? Will your color choice look good with your furniture? You may like the color on the swatch, but will you like how it turns out on the walls? The thought of making this decision by yourself can be stressful. Enter your color consultant! This professional is a great resource to turn to in any house painting project; in fact, when they help you choose a color scheme for your paint, they help you do these four things.
Save Time
When you work with a professional painter, the project typically doesn't last terribly long. However, finding out after the job is completed that you don't actually like the color makes for extra work. Instead of spending a couple of days, the crew needs to spend several days or even a week to correct the color. But meeting with a color consultant beforehand can help you double check that it is exactly what you're looking for.
Save Money
If you're like most homeowners, you don't have an unlimited budget, and you can't afford unnecessary setbacks. Along with lost time, having to repeat a paint job because of the color is a waste of precious money. Getting it right the first time can allow you to devote your money toward beautifying your home in other ways, such as finding the perfect décor or furniture. As a result, your color consultant can help you save on improving your home.
Stay on Trend
Home design can be challenging to keep up with. In fact, it's a full-time job! You may not have the time and resources to dedicate to learning what's in style, so why not simply work with someone who does? Talking with a color consultant can help you make selections that your guests will admire and maybe even want to do in their own homes.
Get Help with Your Overall Design
Perhaps you haven't planned out every detail of your design yet. Maybe you need a little guidance to know what would work in your space. Going beyond the walls, a color consultant can help you envision how the whole picture will look, how certain colors complement each other, and how to best take advantage of walls for your design. Making a final decision can be hard for some people, but a color consultant can provide an informed opinion, like a non-judgmental friend, and help you arrive at a final decision you feel confident about.
With a color consultant by your side, you don't have to make this choice alone. Helping you save time and money, giving you confidence about your selection, and helping you find your style are definitely worth the short consultation. That way, when the project is done, you love how it turns out!
About Platinum Painting of Fort Worth
Platinum Painting of Fort Worth has been in business since 2008. Since humble beginnings, owners Karl and Marjorie Pickens have expanded the company to serve homeowners through North Texas, painting over 12,000 homes. For customers wanting help deciding on paint color, we can arrange for a meeting with a third-party color consultant. To get started on your next painting project, contact our Customer Care team here.
Comments Off

on 4 Ways a Color Consultant Makes All the Difference
No Comments
No comments yet.
RSS feed for comments on this post.
Sorry, the comment form is closed at this time.