July 12, 2022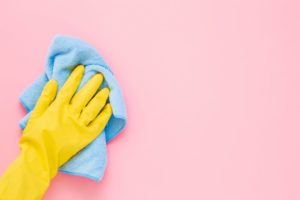 Your mother-in-law is coming over in a few days, and you're worried she'll notice all the areas of your house that aren't clean. As you check each room, you notice that the walls seem a little dingy, but you don't have time to think about repainting. How long has it been since the dirty walls were last cleaned? It doesn't matter—you're cleaning them now, but how? Here are necessary steps to properly and safely clean the walls so that they look sparkly and new.
Clean Walls Regularly
Cleaning your home's walls shouldn't be something you do once a year or once every couple of years. Dust and grime can build up, even if it's not noticeable at a quick glance, which means you should maintain your walls on a more regular basis.
Start with Dusting
Before you reach for a bucket and sponge, take a few minutes to quickly dust. You can use a broom and a microfiber cloth for reaching corners and chair rails, where dust and cobwebs seem to accumulate the most. Taking this step prior to washing takes care of the big pieces of dust so you can focus on a deeper clean.
Be Safe and Smart
At first glance, cleaning the walls may not seem like a dangerous task. However, while washing the walls, you're going to encounter some risks, namely with light switches and outlets. If you are cleaning these areas, which you probably should, turn off the breaker to avoid getting a shock. If you are concerned about damaging your floors, be sure to put down towels to catch liquid at the base of the walls.
Know Your Paint and Use the Right Cleaning Solutions
At this point, you may think you're ready to wash the walls, but there are a few other details you need to account for—the type and finish of the paint. Not all paint can be washed the same way. For example, flat, eggshell, or satin finishes cannot withstand heavy-duty cleaning solutions and hard scrubbing. If this is the approach you take, expect to see paint come off the wall. On the other hand, gloss and semi-gloss finishes are much more durable, meaning you could use degreasers or more aggressive cleaning solution and be okay.
The type of your paint matters as well because of the chemical reactions it can have with the cleaner. All-purpose cleaning solution, vinegar, and dish soap can be used on latex paint. Just put a clean sponge in the cleaner, squeeze it dry, and gently scrub the walls clean. In contrast, vinegar on oil-based paints can damage the finish, so you should use only dish soap and water on this type of paint.
If your walls are in need of a refreshing wash before your mother-in-law arrives, follow these steps so that you can preserve the paint and make the entire room seem more welcoming. Even if she does a white glove inspection on the walls, you can pass the test!
About Platinum Painting of Fort Worth
Although Platinum Painting started in Keller, the company quickly spread to serve homeowners throughout North Texas, including Fort Worth. In total, we've painted about 12,000 homes since opening our doors in 2008! If you are interested in getting a quote on interior painting, or if you would like to schedule your project, you may contact us here.
Comments Off

on 4 Simple Steps to Safely Clean the Walls
No Comments
No comments yet.
RSS feed for comments on this post.
Sorry, the comment form is closed at this time.