October 12, 2022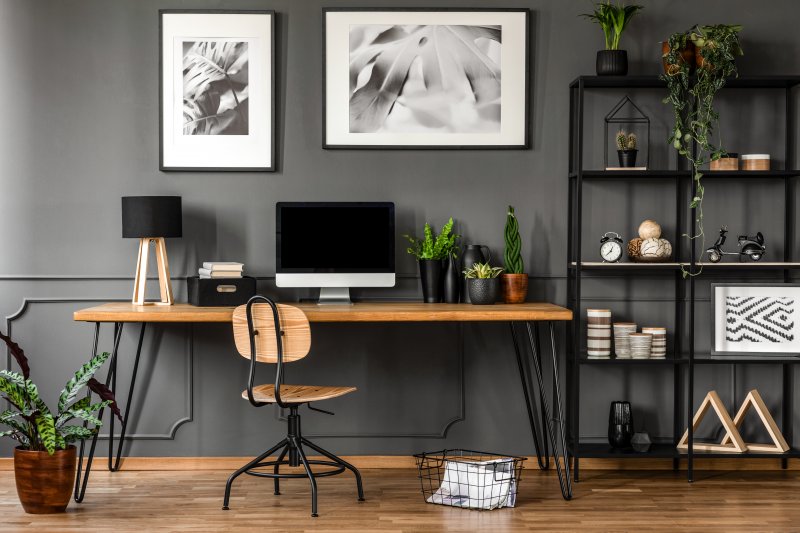 Since the COVID-19 pandemic, many employers across the country have allowed workers to work from home. As a result, more and more people are spending a large portion of their day in their home office. If that's you, you may begin thinking it's time for a new look. Turning your space into one that's beautiful and functional has proven to have a significant impact on productivity. With that in mind, here are some tips to keep in mind when redesigning your home office.
Paint Your Desk
Do you have a random desk sitting in your garage collecting dust? Before you throw it out, turn it into something you can use in your home office! It can be saved with a quick do-it-yourself project. For instance, a fresh coat of paint in your favorite color can turn it into a treasured and functional item.
Incorporate Greenery into Your Space
If you have a lot of white space on your walls, you may want to consider adding some floating shelves and placing small plants on them. You can even purchase bigger plants and place them on your cabinets or throughout the nooks and crannies of your home office. It'll help make the room feel fresh and inviting!
Consider Chalkboard Paint
You don't have to limit yourself to a simple paint color. Feel free to bring out your inner child by applying chalkboard paint to a wall! Not only will it add a playful touch to your office, but you can even get some use out of it by putting your to-do- list on full display. That way, you'll never forget what's next on the agenda.
Repaint the Walls
A neutral color is a great color choice if you want to maintain a classy look. However, you can get your gears going by choosing a more colorful shade. For example, a bright color like orange or lime green can energize you while shades like botanical green or seafoam blue can relax you. Because different colors can affect your mood, it's incredibly important to do some research before selecting a shade.
Create an Accent Wall
Not a fan of wallpaper? Don't worry – there are other ways you can make your room look cool! You can create an accent wall by doing something as simple as painting one wall a bold color. It can make a huge difference to your office! Add a stylish accent table, daybed, or floor lamp to complete the look.
Ready to transform your home office? With these tips, you can turn your space into one you'll enjoy working in!
About Platinum Painting of Fort Worth
At Platinum Painting of Fort Worth, we want your home to be a space that looks beautiful and feels comfortable to live in. Our team will use time-tested techniques and high-quality products to ensure you get the results you deserve. If you need help transforming your home office, don't hesitate to reach out. You can make an appointment via our website or call (817) 885-5656.
Comments Off

on How to Design a Great Home Office
No Comments
No comments yet.
RSS feed for comments on this post.
Sorry, the comment form is closed at this time.