Brick Painting – Fort Worth, TX
Paint the Brick, Love Your Exteriors
If you have a brick exterior on your home, it can add character, texture, and visual interest. However, some brick tones can actually hold back your home's curb appeal. In this case, painting over the brick can distinguish and completely modernize your home. At first, brick painting can seem intimidating because it is irreversible, but our team at Platinum Painting can give you the confidence to move forward and refresh your brick exterior. With our professional handiwork, you won't regret your decision!
Why Choose Us:
Based in Fort Worth
Insured
Satisfaction Guarantee
Serving All of North Texas
Benefits of Brick Painting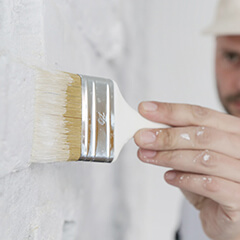 Some homeowners hesitate to paint brick. After all, it is a permanent change, but many before-and-after photos clearly show how much of an impact this one alteration can have. Below are only two of the benefits you can get when you paint your brick exteriors.
Brightening Up Your Home
Earthy tones for brick used to be popular, but these shades of raw brick can blend your home in with its surroundings. Darker brick can make the house look dark and uninviting. Fortunately, these days painting brick is much more common! Choosing a lighter color on the brick can create a light contrast and be much more appealing to your guests and potential homebuyers.
Protection from the Elements
As a homeowner, you may already know that water can be damaging for many materials in your home. Brick, which is porous, can be a particularly vulnerable exterior feature to potential erosion. When water becomes trapped in the surface, it can wear down over time, especially if dirt and grime aren't cleaned properly every now and then. When we paint brick, we utilize the right primer and paint, which protects your home from Mother Nature and keeps the exterior looking clean and bright for many years to come.
Process of Brick Painting
With more than a decade of expertise, we know exactly how to paint brick for the best results. This surface differs from siding, wood, or stucco and requires more thorough work. That's why we follow these steps:
We'll start by power washing the brick to remove dirt, old paint chips, and grime.
After the brick is dry, we'll look for any cracks or gaps that need caulking or filling and take care of them. That way, the exterior is properly sealed.
After that, we will apply a primer that is formulated especially for masonry.
Likewise, the paint we will then apply also is meant specifically for brick to protect and cover the pores of the brick without trapping in moisture.
Before we're finished, we'll clean up after ourselves and have you inspect our work to make sure you're completely happy.