Wallpaper Removal – Fort Worth, TX
Get Rid of Wrinkled Wallpaper Without Damage!
In some cases, wallpaper is a great way to add unique character to a space, but the designs on wallpaper can quickly show their outdated style. Instead, you can have a blank slate or maybe a fresh coat of paint, giving the room a new, more modern appearance. At Platinum Painting of Fort Worth, getting rid of wallpaper has never been so fast, simple, and stress free. Please contact us today to get started.
Why Choose Us:
Based in Fort Worth
Insured
Satisfaction Guarantee
Serving All of North Texas
What Should You Think About When Removing Wallpaper?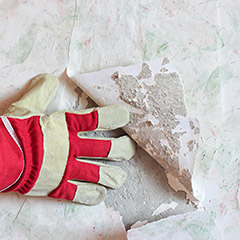 It may seem like a straightforward DIY project at first glance, but to properly remove wallpaper, you need to follow a very delicate process. Otherwise, your risk causing severe damage to your walls. At Platinum Painting, our seasoned professionals consider all the important factors, including the following, that can determine how we approach your specific wallpaper:
How long has the wallpaper been in place? The age of the wallpaper can impact how much wear it and the adhesive have.
Before the wallpaper was applied, was the wall properly primed and sealed? If not, the paper won't likely come off cleanly.
What kind of wallpaper is it? Not all wallpapers are made of the same materials. For example, some consist of fabric, and others have a vinyl coating. Each type require a different removal method.
No matter how tricky the wallpaper situation, we'll use effective steamers, safe solvents, and other professional tools to get the job done correctly the first time.
The Benefits of Wallpaper Removal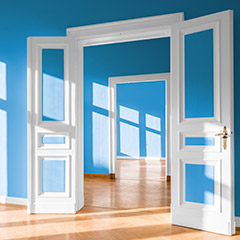 The greatest plus of getting rid of your wallpaper is that you won't have to look at a pattern you don't actually like anymore! Banishing tired wallpaper is one of the easiest ways to update your living spaces, allowing for a brand-new, blank canvas for your future home design ideas.
Over time, wallpaper can also start to show age through obvious bubbles and peels. In some cases, it can even shift color, such as to a worn yellow shade. If you notice any of these problems, don't wait to contact us at Platinum Painting so that we can start updating and improving the look of your walls.
Wallpaper Removal Steps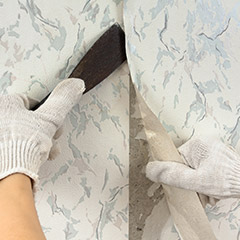 Using non-toxic solvents, our team prepares the affected walls, weakening the wallpaper adhesive.
We will take our time gently and carefully removing the wallpaper to avoid damaging the walls. We'll also address the remnants left behind on the floor, so there's no mess for you to worry about.
After the residue from the wallpaper is completely washed away from the walls, we'll find and correct any remaining imperfections, smoothing it all out with some sanding and a skim coat. If you've chosen to have our team paint the newly unearthed walls, we'll then apply primer, followed by the beautiful, new color you've picked!
Wallpaper Removal FAQs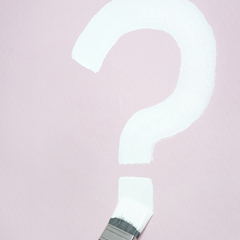 At Platinum Painting, we are homeowners too. We know that bringing a service company into your home to help with improvement projects requires trust. After all, you want to feel confident that the job will be done correctly from start to finish and leave you with results you love. Even with all this information about wallpaper removal, you may still have questions, so we've answered some of the most common ones below. Feel free to reach out to us if your concern isn't addressed here. Our team will always be here to help you in any way we can!
Can you paint over my wallpaper?
Although we can do so if you want us to, we strongly recommend against painting over wallpaper. Why? The wallpaper can easily bubble and peel away from the sheet rock when you apply moisture to it, no matter how long it has been up on the walls. Also, bare walls and wallpaper have very different textures, so it's easy to tell when a coat of paint is covering wallpaper. As a result, many homebuyers can view this as a huge turn off with the idea of the time-intensive work needed to get the house updated. To make a valuable change to your walls' aesthetics, we recommend first removing the wallpaper properly and then restyling them as you please.
Will my walls be ready to paint once the wallpaper is removed?
The process takes a lot more than simply tearing wallpaper from the wall. The adhesive that keeps wallpaper in place often leaves traces of residue and damage behind. Our specialized tools and solutions help us remove the wallpaper as effectively as possible, keeping the damage minimal. Then we take the time to fix any damages to the sheet rock and retexture the walls to make them look like they're brand new! Finally, we prime the walls in preparation for a new start with a fresh coat of paint. These steps allow us to make sure that your walls look their absolute best.
How long does wallpaper removal take?
Several factors influence how long a removal project can take, including the type of wallpaper, how long it's been up on the wall, and whether the walls were properly sealed and primed before the wallpaper was applied. Depending on these factors, the project can either be smooth and quick, or it can be more challenging and time consuming. Removing roof wallpaper and repainting generally requires about two days to complete. When our estimator looks at your walls, they should be able to give you an accurate timeframe for the project. Regardless of the duration of the project, our job isn't finished until you are completely satisfied with our work!
What prep do I need to do before you start?
You don't need to do much work at all to prepare for our team's arrival. Please just remove pictures or artwork from the walls so that we can get straight to work. Throughout the project, we'll care for your walls as if they were our own, patiently remove the wallpaper and adhesive residue, and fix any damaged spots. By the time we're finished, your walls will be perfectly textured and primed, ready to make a fresh, new design statement. And don't worry! Our team will clear away debris for you afterward, so you don't have to lift a finger.