House Painting – Fort Worth, TX
Make Your House a Home
Wouldn't your house feel more comfortable and welcoming to you if it looked fresher, cleaner, and perfectly suited to your ideal aesthetic? At Platinum Painting, your house painting design goals can become a reality. With a wide range of residential house painting services for single-room interior projects to all-over transformations for exteriors, we've worked in over 10,000 homes, from huge estates to small condos. Our team always knows how to achieve our clients' desired outcomes, taking the time to deliver a high-level of quality and personalization, down to the smallest details. To learn more or receive a complimentary estimate, we invite you to contact our Fort Worth, TX location today.
Why Choose Us:
Based in Fort Worth
Insured
Satisfaction Guarantee
Serving All of North Texas
Why Should You Paint Your Home?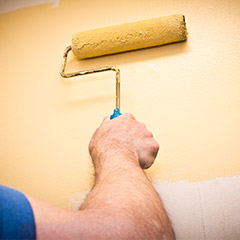 When you paint your home's interior and exterior, it does much more than simply change its appearance and color. Professional painting has many valuable and tangible benefits, including the following:
Inexpensive Remodeling – If you're ready for a dramatic change but don't quite have deep enough moneybags to accommodate larger remodeling projects like new fixtures and knocking down walls, we have a simple, yet effective answer. Painting can revitalize your space while staying within a reasonable budget.
Lasting Protection – The outside walls of your home have to withstand the powerful forces of nature, including snow and moisture. New, high-quality paint can actually protect these surfaces and make them last longer. Meanwhile, paint jobs inside your home strengthen your walls against wear and tear over time.
Improved Curb Appeal & Resale Value – Over and over again, research finds that clean, attractive paint on the interior and exterior of your home can actually make it more appealing to prospective buyers and, as a result, even increase your home's resale value.
Dirt & Dust Are Minimized – Interior walls, especially plaster ones, can collect dust and dirt over time. A fresh coat of paint inside can keep these from accumulating.
The Benefits of Professional Painters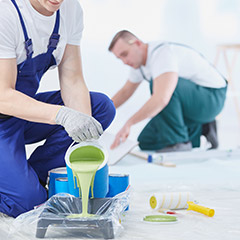 If you want to refresh your home with some new paint, you may think you need to do it on your own. Although some DIY projects work out fine for very minor updates, a professional company like Platinum Painting can make a huge difference in making sure that your desired vision is successfully brought to fruition. Here are just some of the advantages you can enjoy when you give us a call:
We keep up with the best practices and painting techniques in the industry, allowing us to work more efficiently and deliver the highest quality every time.
We use the necessary protective gear, safety equipment, top-quality paint brands, and more to handle each project with the utmost care, no matter the size or scope.
We do more than just paint – our professional team will also resolve any unsightly stains, cracks, scuffs, and holes along the way!
Best of all, your family will have absolutely NO stress about the cleanup when you choose Platinum Painting. We take care of everything, allowing you to simply enjoy your freshly, flawlessly updated home.
In-Depth Painting Services From One Trustworthy Company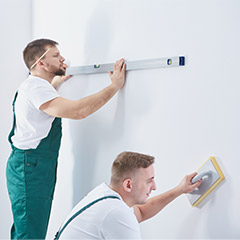 At Platinum Painting, we've found our specialty in residential homes, offering both exterior and interior painting services to homeowners from all over Fort Worth and the greater metroplex area. Because we provide comprehensive home painting, you can turn to just one company for all your needs without draining DIY projects or sloppy hired hands from multiple sources.
Our commitment to our clients includes using the highest quality of supplies as well. From top-tier Sherwin-Williams paints and primers to outstanding rollers, brushers, and other professional tools, you can bet that we're utilizing the best that the industry has to offer. Pursuing the home makeover of your dreams is just a phone call away – contact us now to get started!
Frequently Asked Questions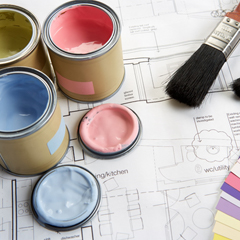 When choosing a home improvement service company, it's critical to find an experienced team with a proven track record and dedication to give you the results you want. At Platinum Painting, we have been there because we are homeowners too. We realize that picking a residential painting company can be a difficult choice. To make the decision for your home painting projects simpler for you, we're providing the answers to some of your questions. Here are a few of the most common ones that we've received from clients in the past.
How many houses have you painted?
Since we started back in 2008, our team at Platinum Painting has painted over 10,000 houses throughout North Texas. Our projects have ranged from tiny one-room condos to sprawling three-story homes and everything in between. Some Platinum Painting team members have worked with us since the beginning, so you know that our experienced experts can handle any painting challenge. Although the size of our company has grown throughout the years, our commitment to satisfy each customer, from the first phone call to the final inspection, remains the same as when we opened our doors over 10 years ago.
What prep work do I need to do before you start?
Let's face it. No one enjoys having a work crew hanging around their house. As homeowners, we understand that you want us in and out as quickly as possible. That's why we ask that you prepare a few things before our team arrives so that we can get right to work. For interior projects, please remove knickknacks and precious items from tables, mantles, or shelves in the work area. If we are painting the closets, please empty them out, and take hanging items off the walls. In order for our team to move freely in your house, undo all child or pet gates and keep your loved ones safely away from where we will work. For exterior projects, please turn off your sprinklers. Water can mess with a beautiful paint job and soak our crew members. Also, make sure that you clean up after your pets.
Is there an advantage to painting exterior and interior at the same time?
Certainly! Over the years, we've found ways to save our customers money when and where we can. To make sure your surfaces have a uniform look, we apply several coats, but this process takes time as we allow the paint to dry. If we have projects both inside and outside the home, we can use our time more efficiently and alternate painting the interior and exterior of your house. Also, by combining, we can continue working even if inclement weather pops up. Overall, bundling your painting projects can help you save more money on labor costs than you would spend painting the interior and exterior separately.
What type of paint do you use?
More than anything else, Platinum Painting prizes each customer's satisfaction with our work. As a locally owned and operated company, we will gladly accommodate your preference when it comes to the choice of paint or store. If, however, you don't have a specific brand in mind, we typically get our paint from Sherwin Williams. In more than a decade, we've found their products to be consistently reliable and high quality for the right price. Out of their brands, we typically go with Cashmere Interior Acrylic Latex and SuperPaint Exterior Acrylic paints.