Commercial Painting – Fort Worth, TX
Create a Beautiful, Professional Setting for Your Business
Some businesses are set up for customers to come into their commercial space, whereas other business environments are meant to host just employees. Regardless of your situation, Platinum Painting can help you create an environment conducive to success. After all, a clean, well-selected paint color can be powerful! It can soothe, encourage creativity, or be fun and exciting. Let our small business professionals help your company create the perfect space. Are you interested in learning more about our commercial painting services? Reach out to Platinum Painting of Fort Worth , and our team will send an estimator to your location for a free quote.
Why Choose Us?
Insured
Local Professionals
Free In-Person Estimate
What We Paint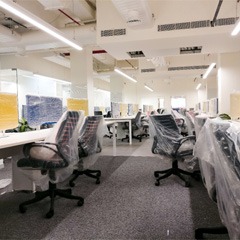 When we say we do commercial projects, we mean we can handle spaces ranging in size from a small retail shop to several buildings. Our team at Platinum Painting is experienced and prepared to take on the following types of commercial painting:
Hotels
Apartment buildings
Office buildings
Interior and exteriors
Shopping centers or strip malls
Religious buildings
And much more!
How Our Painting Process Works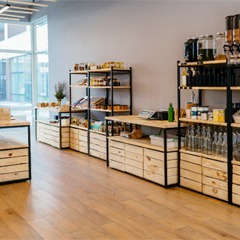 All our projects, whether residential or commercial, begin with one of our estimators going directly to the site. After taking measurements and looking at the scope, they give you an accurate, written estimate. Then, we can schedule the painting, when our team will come back and transform the space. When we arrive, this is the process we will follow:
Project setup : Before we open a paint can, we can take down wall décor and either move or cover furniture. If you have anything especially valuable in the space, please pack and store it elsewhere before we arrive. We will also examine, caulk, sand, and clean the walls wherever necessary to give us a perfect surface to paint.
Painting : If you prefer one brand of paint over another, we can go with your preference. Otherwise, we typically choose Sherwin Williams' interior and exterior paints.
Cleanup : Some other contractors don't care about leaving a mess behind, but we do! We remove any trash or debris from our work, leaving just beautiful results for you to enjoy.
Final inspection : Before our work is officially done, we will go through the area with you and confirm that you're happy with what we've done. If you find something that keeps you from feeling wowed during this final inspection, our team will address it. We're not finished until we know you're completely satisfied.
Color Consultation Available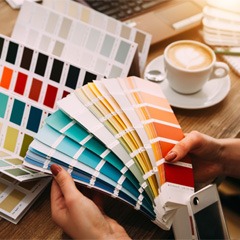 Picking the color(s) of paint for a commercial space can be an important, overwhelming task, but no one said you have to do it alone. Working with Platinum Painting, you can meet with a color consultant who offers expert advice on color and design trends as well as the impact certain colors can have. With this assistance, you can get excited about the results before they're even up on the walls!