Painting Services – Fort Worth, TX
Local Services, Unparalleled Results
For the best results in painting or repainting your home, you need to choose a residential painting company that has the requisite skills, knowledge, and professionalism. As a trusted Fort Worth residential service company, Platinum Painting has excellent Angie's List customer reviews. If you demand quality, reliability, and integrity, we deliver outstanding painting services on a daily basis for homeowners throughout Fort Worth and the surrounding communities. We welcome any questions you may have and invite you to schedule your own complimentary in-home estimate today!
Why Choose Us:
Based in Fort Worth
Insured
Satisfaction Guarantee
Serving All of North Texas
House Painting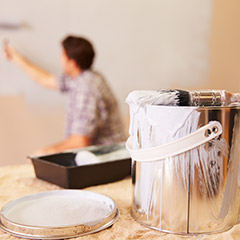 Unlike other companies that try to have a hand in all types of professional painting, we specialize in residential projects, which has enabled us to become experts, provide highly detailed work, and give our customers personalized attention. From dramatic makeovers for the entire exterior surface to a simple sprucing up of the color in your child's bedroom, our Platinum Painting team can help make your design vision become a reality. With a comprehensive variety of house painting services, we have extensive experience with all types of texture, glazes, and materials for projects of any size and scope.
Interior Painting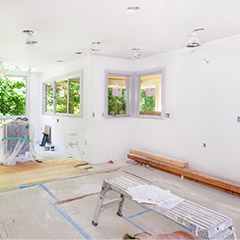 Compared to other home improvements, interior painting can breathe new life into your living spaces for a relatively low cost. Although you could likely do an okay job of painting a room yourself, our seasoned professionals from Platinum Painting will leave you in awe both in the precision of our work and in our ability to meet your needs. We have the tools, skills, and experience to update and freshen up any room in your home. Although we certainly paint walls, we also specialize in every aspect of interior painting and repainting, including ceilings, doors, built-in shelving, and trim. So if your living room, bedroom, or any other space in your home is crying out for some TLC, you can trust Platinum Painting to get the job done efficiently and to your complete satisfaction.
Exterior Painting
Wood, brick, and other materials that make up the exteriors of our homes are subject to daily assault from outside elements. The best way to prevent the degradation of the exterior of your home is to create a barrier. This barrier is called house paint. Painting or repainting the exterior may seem like a massive undertaking, but at Platinum Painting, it's all in a day's work. When done properly, new exterior paint will protect and preserve the beauty of your home for years to come. Whether your home is newly constructed or purchased from a previous owner, painting or repainting the exterior will truly make it your own with an individualized design statement. If you want to achieve a durable and long-lasting exterior paint job, call our office today for a free estimate.
Wallpaper Removal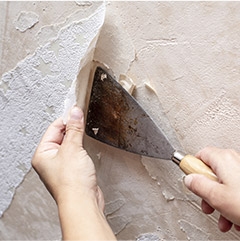 Although wallpaper can potentially add unique character to your living space, over time, it can feel outdated. Wallpaper can also develop unappealing bubbles, peeling, or other unattractive traits. The professionals at Platinum Painting know exactly how to delicately remove your wallpaper, leaving your walls clean and damage free, no matter how poorly it was applied in the past. With a clean slate, your walls will be ready for a fresh start.
Popcorn Removal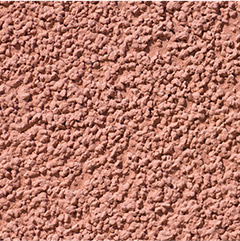 Not only do popcorn ceilings look dated, they could also expose your family to asbestos (if your home was built before the 1970s). That's why we offer popcorn removal! Our professional-grade sprayers and scrapers thoroughly soak and remove the popcorn regardless of the size of the space. Once our team of experts is finished, we can discuss repainting or texturing the ceiling with you so that you have an updated look and feel to your home.
Cabinet Painting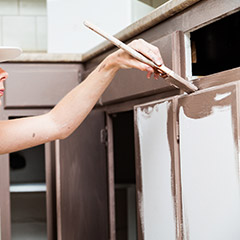 The kitchen is one of the most important rooms in your home, and giving it a fresh, new look is a smart way to increase the worth of your home. But many homeowners can't afford more costly renovations like installing brand-new cabinets. Instead, we at Platinum Painting can simply paint the cabinets for you at a much more budget-friendly cost. Although this change may not seem like it can make a huge difference, you'd be surprised by how a few coats of paint can completely alter the look of a kitchen. We'll work with you to create the style you want for your kitchen through brand-new colors, re-staining, and more.
Commercial Painting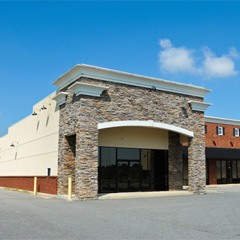 At Platinum Painting of Fort Worth, most of the projects we've taken on have been homes; however, we actually also paint commercial spaces! If you want to spruce up our office, store, or religious building (or whatever else), our team can provide polished, professional, and beautifully even paint. As a locally owned, small business, we understand the power little touches can have on customers, and we want to help your business create a positive environment for your employees and a powerful first impression on your clientele!